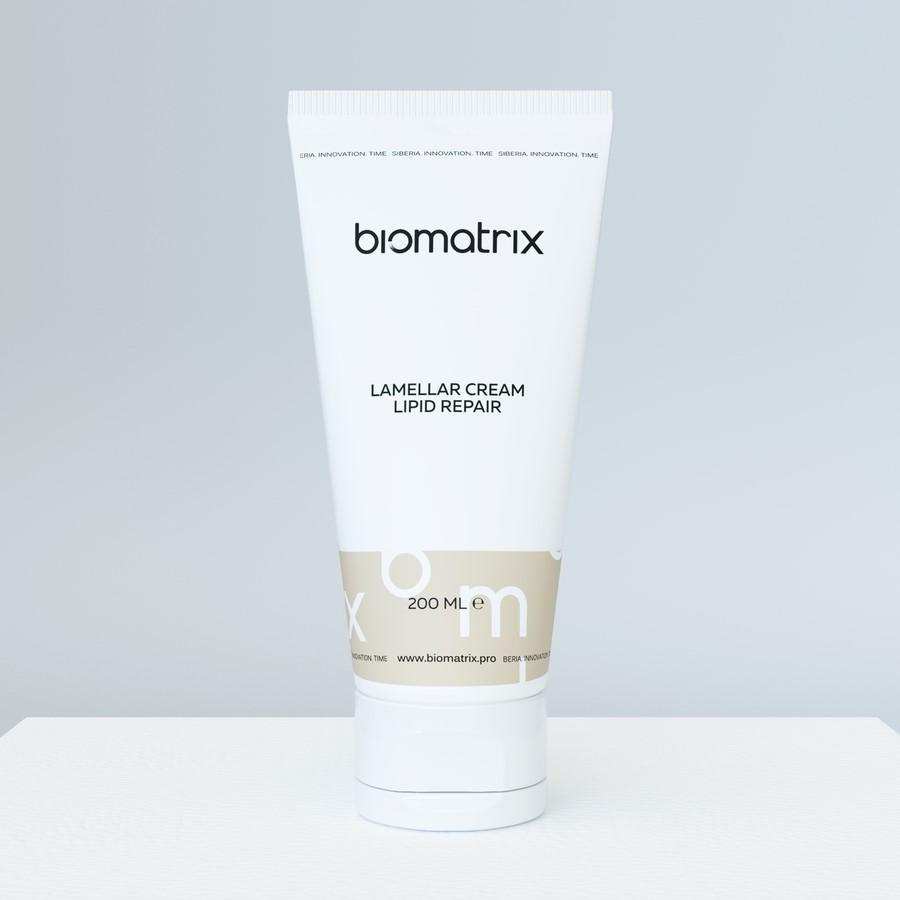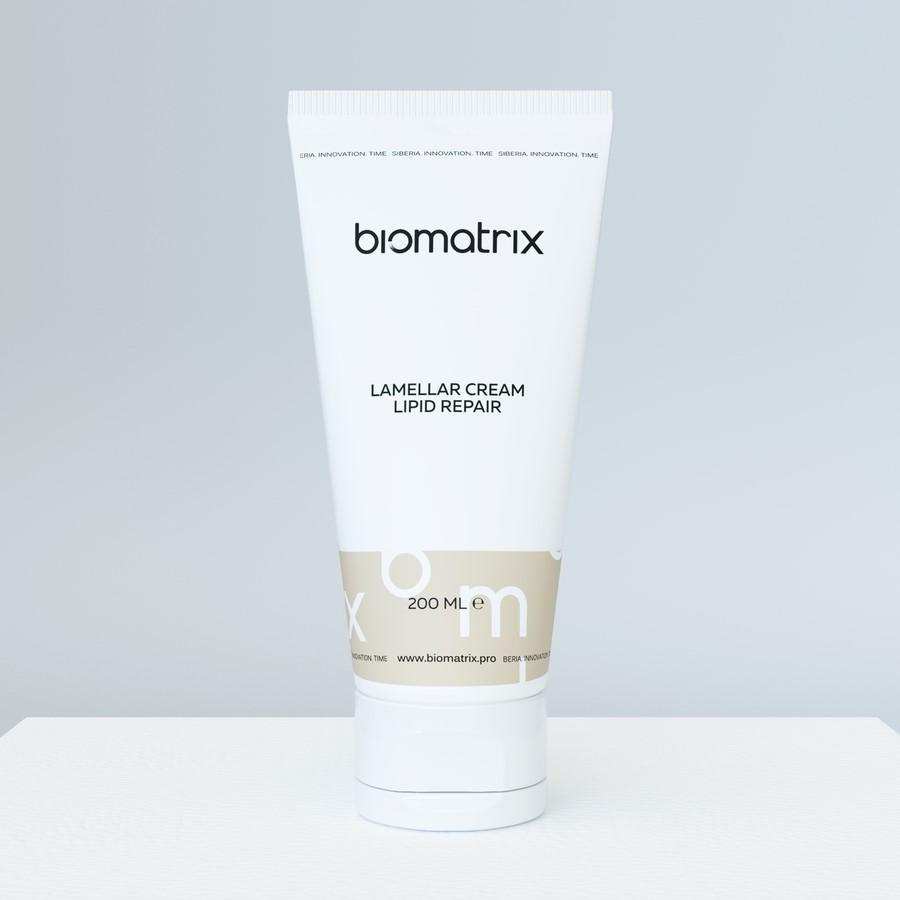 BIOMATRIX LAMELLAR CREAM LIPID REPAIR
Lamellar lipid-replenishing cream. Innovative cream with omega - 3,6,9 acids in a large volume - 200 ml. Convenient for professional use.
Replenishes the supply of lipids in the skin, helping to strengthen the lipid barrier of the epidermis. Increases the skin's ability to withstand stress. Prevents premature aging. Provides moisture, smoothness, and elasticity to the skin
Recommended as a means of rehabilitation in the late post-peeling period.
Rosacea, pigmentation, dryness, wrinkles, post-acne and acne.
Phospholipid-based lamellar emulsion is similar in structure to the lipid layer of the skin, contributing to faster and more effective recovery
Restore and improve the barrier function of the skin
Comfortable and light cream texture. Suitable for daily care for all skin types
Absorb quickly and leaves a pleasant feeling on the skin
Yeast hydrolyzate RELIPIDIUM
Increases the production of lipids by an average of 31% (ceramides by +93%), which helps to strengthen and maintain the integrity of the skin's protective barrier. Restores the balance of microflora by increasing the number of commensal bacteria (positive). As a result, inflammation caused by pathogenic (negative) bacteria is reduced.
PatcH2O
Molecular patch based on film-forming natural biopolymers (hyaluronic acid, alginate and pullulan) with a high concentration of moisturizing agents (trehalose, glycerin, urea, and serine). It has pronounced hydration.
Hydrogen Aquaporin
A unique moisturizing technology that creates special water channels (aquaporins) between skin cells. The complex maintains moisture in the skin for a long time.
A-linolenic acid (omega-3), Linoleic acid (omega-6), and Oleic acid (omega-9)
Promote the synthesis and formation of ceramides (restoration of the epidermal barrier) in case of irritation and dryness
Prevent aging and protection of the damaging effects of UV rays
Take part in strengthening collagen fibers, preventing the formation of wrinkles and premature aging of the skin
Moisturize, embedding in the lipid layer of the skin and preventing moisture loss
Increase the elasticity of blood vessels, strengthen capillaries, reduce the severity of dark circles under the eyes and spider veins
Hemp oil
It has a strong anti-inflammatory effect, helps in the treatment of atopic dermatitis and other skin diseases. Rich in alpha-linolenic acid, which is recommended for dry skin with impaired barrier properties.
Yeast hydrolyzate RELIPIDIUM®;
Hyaluronic acid
Algin
Pullulan
Urea
Serine
Trehalose
Glycerol
Omega – 3, 6, 9
Hemp oil
Men thủy phân RELIPIDIUM; Hyaluronic acid; Algin; Pullulan; Urea; Serine; Trehalose; Glycerol; Omega – 3, 6, 9; Dầu Hemp.