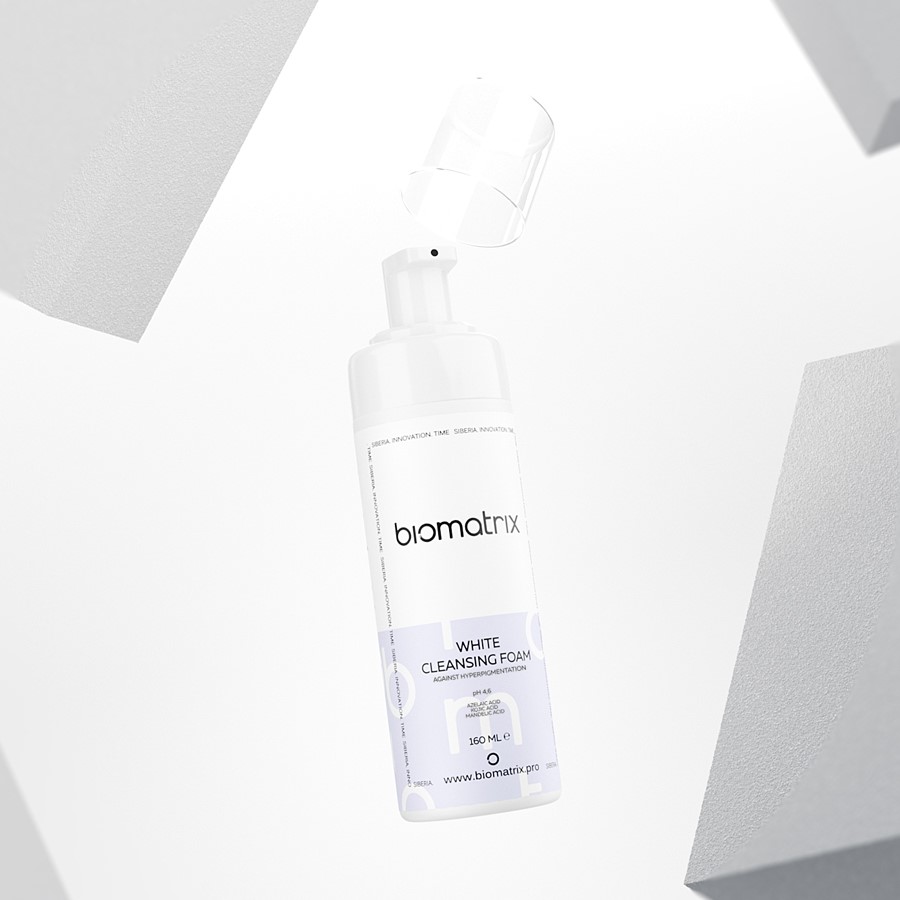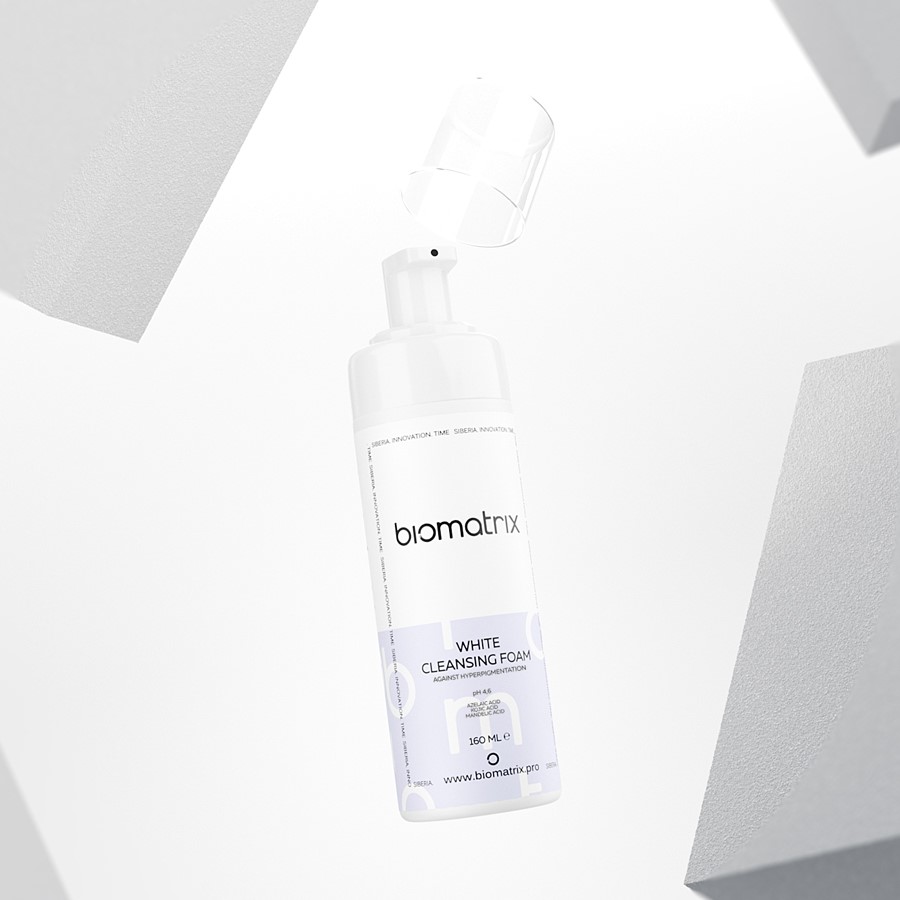 BIOMATRIX WHITE CLEANSING FOAM
Cleansing foam to combat hyperpigmentation. pH4.6
WHITE CLEANSING FOAM is a sulfate-free cleansing foam designed to cleanse the skin of surface impurities and combat hyperpigmentation gently.

Foam in a bottle with a foaming agent 160 ml.
Used as a gentle cleanser for pigmented skin
To increase efficiency, it is recommended to use with other depigmenting products of the WHITE series
Suitable for daily care for all skin types.
Gently cleanses, relieves irritation, and evens out the tone of the face
Due to the complex of acids, it prevents the production of pigment (melanin) at all levels
Forms a voluminous, elastic, and easily washed-off foam
Does not contain sulfates.
Apply a small amount of foam on wet skin of the face and eye area with massage movements, then rinse with water.
Complex of super soft surfactants
Provides gentle cleansing of the skin without damaging the skin barrier. Does not contain sulfates, forms a voluminous, elastic, and easily rinsed foam.
Soft surfactants do not disturb the lipid balance of the skin and have a regenerating effect.
Bleaching acid complex
The combination of azelaic, mandelic, and kojic acids has a brightening effect by blocking the synthesis of pigment (melanin) at different stages of its action.
Mandelic acid is an AHA acid that stimulates skin renewal, brightens, and has a comedolytic effect.
Azelaic acid is an AHA acid with a powerful antimicrobial and anti-inflammatory effect. It has an antioxidant, brightening effect, smoothes and evens out skin tone, fights inflammation and redness, and prevents the appearance of acne and blackheads.
Kojic acid (Kojic Acid) is an antibacterial agent and a melanogenesis inhibitor.
Component system for regeneration and moisturization
Aloe vera and D-panthenol soothe and moisturize the skin, have an anti-inflammatory effect, and stimulate regeneration.
Betaine has a softening effect, and smoothes and soothes the skin.
The formula, enriched with glycerin (2%) and urea (2%), maintains the skin barrier, leaving the skin soft and hydrated.
Complex of supersoft surfactants
mandelic acid
Azelaic acid
Kojic acid
Urea
Glycerol
Aloe vera
D-panthenol.
Avoid contact with eyes. In case of contact with eyes, rinse with plenty of water.
Individual intolerance to the components.