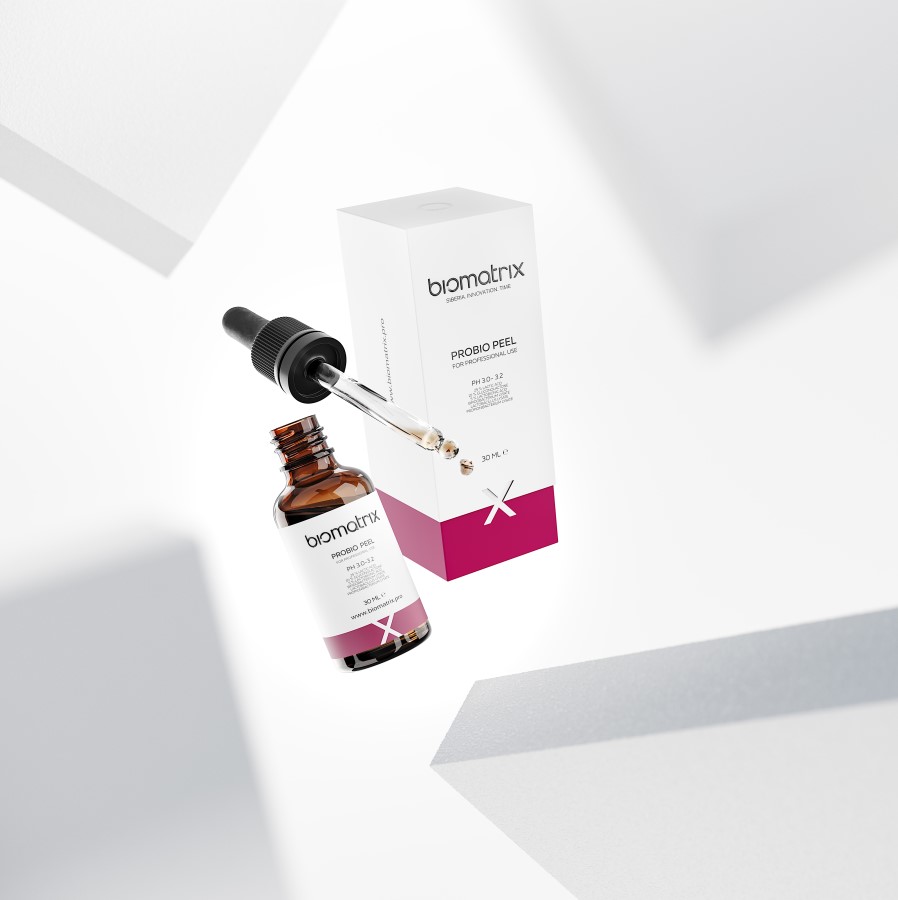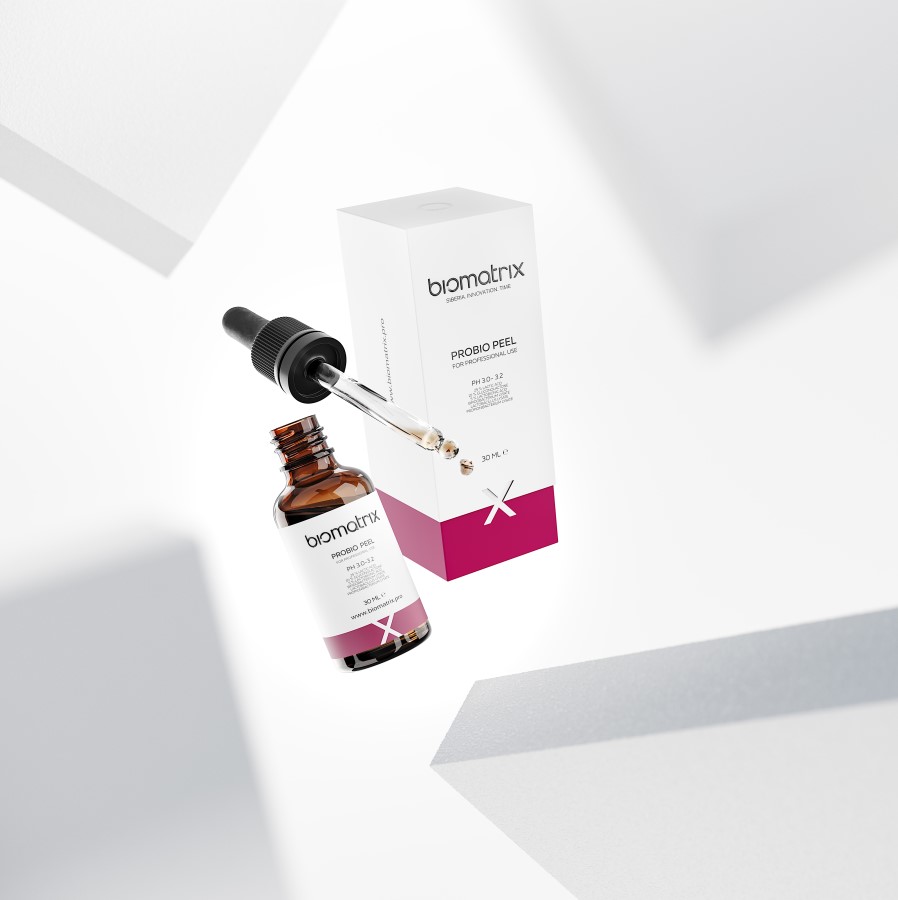 BIOMATRIX PROBIO PEEL
All season. Deeply moisturizing. Anti-aging. 40%. Does not require neutralization. pH 3.0 - 3.2.

BIOMATRIX PROBIO PEEL is a professional peeling based on propylene glycol. In the composition, which lysates, gluconolactone, and lactobionic acids, as a result - a flash effect and strong hydration.

Bottle with pipette cap 30 ml.
Signs of photo- and chronoaging
Hyperkeratosis
Dry, sensitive, dehydrated skin
Decreased skin tone and elasticity
Dull color, and pigmentation
Oily skin, enlarged pores
Problematic skin and post-acne manifestation
"Smoker's Tired Skin"
Provides deep hydration
Possesses immunomodulatory and anti-inflammatory action;
The instant lifting effect, ideal skin relief, and narrowing of pores;
Peeling – instant radiance;
Atraumatic procedure;
Superficial peeling with a comfortable texture for a specialist (does not require neutralization);
Comfortable for the patient, because it does not cause a burning sensation.
Lactic acid 25%;
Gluconolactone 10%
Lactobionic acid 5%
propylene glycol
Bacterial lysates
Avoid contact with mucous membranes and eyes
In case of contact with eyes, rinse immediately with plenty of water
Do not apply peeling to damaged areas of the skin
Before use, test for sensitivity on the elbow.
Violation of the integrity of the skin
Active inflammatory process on the skin
Herpes in the active phase
Pregnancy and lactation
Individual intolerance to peeling ingredients
QUY TRÌNH PEEL DA BẰNG BIOMATRIX PROBIO PEEL
1. Làm sạch: Thoa một lượng nhỏ gel lên da và tạo bọt với nước, massage đều. Để khoảng 2 phút. Rửa sạch bằng nước. Lau khô da.
2 . Peel da: Dùng cọ tán đều Probio peel lên vùng cần được điều trị, massage đều. Được phép bôi nhiều lớp, thời gian tiếp xúc tối đa 10 phút. Rửa sạch lớp Peel. Lau khô da
3. CHĂM SÓC SAU PEEL
 Sử dụng 8-10 giọt serum GoodnDoc Repair Complex lên khu vực đã peel.
Thoa Kem dưỡng Biomatrix Lamellar Cream Lipid Repair để giữ ẩm cho da.
Thoa 2-3 ml kem chống nắng Cream SPF 30 để bảo vệ da khỏi tia UV.
PHẢN ỨNG DỰ KIẾN: Ban đỏ có thể tồn tại trong vài giờ đến một ngày.
LIỆU TRÌNH
Giai đoạn 1: Thực hiện 5 lần, 5 ngày/ lần. Mỗi lần apply 2 lớp, mỗi lớp 2 ml
Lặp lại sau 6 tháng
Giai đoạn 2: Thực hiện 3 lần, 5 ngày/ lần. Mỗi lần apply 1 lớp 3ml