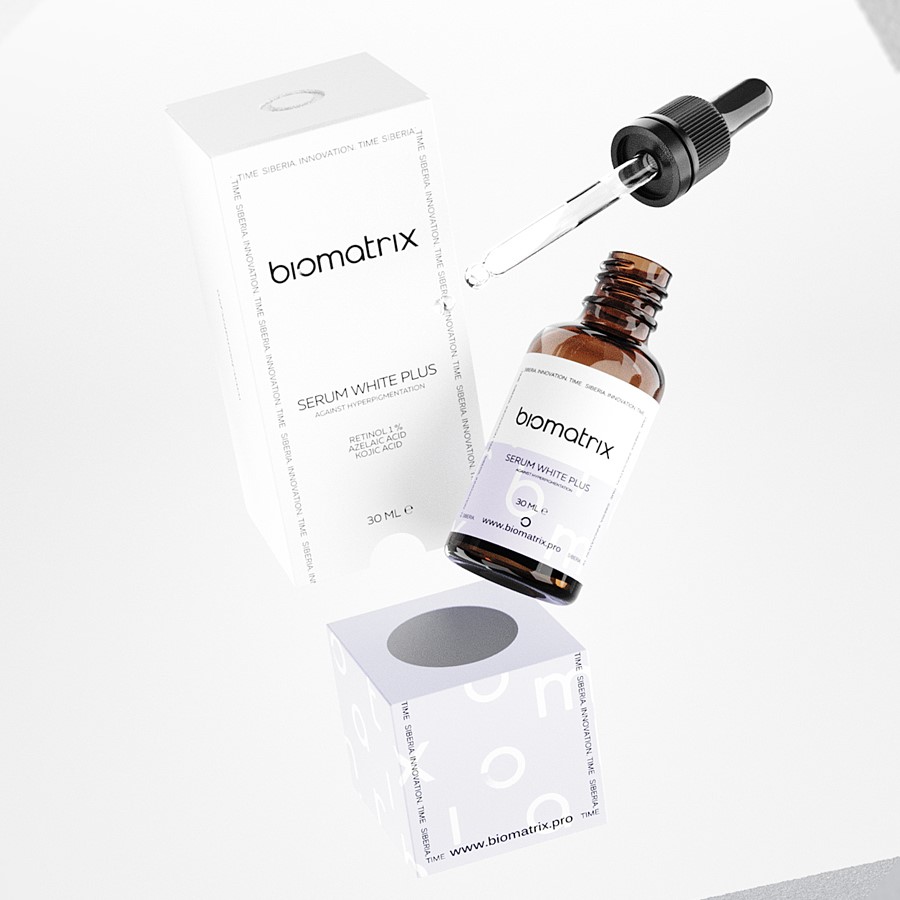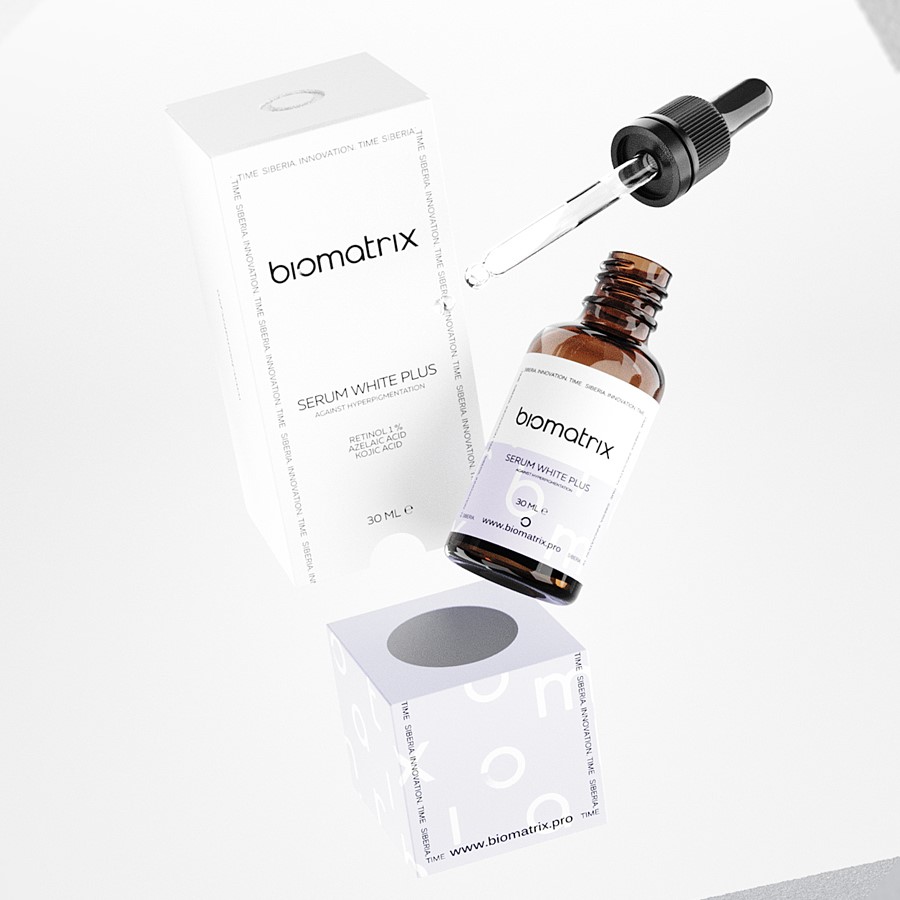 BIOMATRIX WHITE PLUS SERUM
Anti-Hyperpigmentation Serum
SERUM WHITE PLUS is designed to combat hyperpigmentation and age-related skin changes

Bottle with a pipette cap of 30 ml.
Recommended in professional and home care for the treatment of melasma and other forms of hyperpigmentation
It is used for signs of photo and chronoaging, skin fading
To increase the effectiveness and safety of other depigmenting approaches – hardware and topical
Contains a high concentration of retinyl palmitate (a stabilized form of retinol), which contributes to more intensive therapy to prevent hyperpigmentation and age-related skin changes
Evens out the tone of the face, makes the skin smooth and soft after application
The improved texture of the serum contributes to a comfortable application
Post-procedure salon care.
It is applied immediately after the peeling procedure (for example, after superficial peels). The final stage of non-invasive care procedures.
Home post-procedure care.
After medium and deep peels from the day of the procedure and for 3 subsequent days, the serum is applied 5 times a day, then 1-2 times a day.
To enhance the effect of the procedure, Biomatrix serum must be applied daily to previously cleansed skin. Especially effective in night care.
Depigmenting components
Provide shutdown of melanin synthesis at all stages of its development.
Retinol regulates the mechanisms of cell division and differentiation, accelerating the renewal of the epidermis. It activates the synthesis of collagen and elastin fibers, which leads to a reduction in wrinkles and an increase in skin elasticity. Improves skin texture by stimulating epidermal renewal and glycosaminoglycan synthesis.
Azelaic acid disrupts the synthesis of DNA and RNA in melanocytes, preventing pigment synthesis. Effective in post-traumatic hyperpigmentation.
NOVHYAL (Disodium Acetyl Glucosamine Phosphate) increases the synthesis of hyaluronic acid by 282% in 48 hours, and stimulates the formation of glycosaminoglycans (GAGs). Strengthens the dermo-epidermal junction, and induces regenerative processes. Reduces the production of melanin.
Kojic acid prevents the formation of dopaquinone. Powerful antioxidant. Has antibacterial and antifungal properties.
Tetrapeptide is a peptide designed to combat pigmentation. Brightens the skin, inhibits melanin synthesis, and reduces redness caused by inflammation. Eliminates post-acne spots, and has an anti-inflammatory effect.
Active components with powerful anti-inflammatory effects
Tetrapeptide – 15 has a powerful anti-inflammatory effect. Reduces the level of pro-inflammatory neurotransmitters in tissues and allows you to increase the threshold of sensitivity, as well as reduce skin hyperreactivity to environmental factors. Relieves itching, burning, and other painful sensations.
Avocado oil contains many antioxidants (in particular squalane) and active ingredients, vitamins (A, B, C, D, E), macro and microelements (calcium, zinc, iodine, potassium). Suppresses irritation and inflammation.
D – panthenol stimulates the process of skin regeneration, has an anti-inflammatory effect, increases the strength of collagen fibers, normalizes cellular metabolism, and also stimulates healing, and relieves itching and burning.
Kojic acid
Azelaic acid
NOVHYAL
Retinol 1% (retinyl palmitate)
Tetrapeptide-30
Tetrapeptide-15
D-panthenol
Avocado oil
Avoid contact with eyes. In case of contact with eyes, rinse with plenty of water