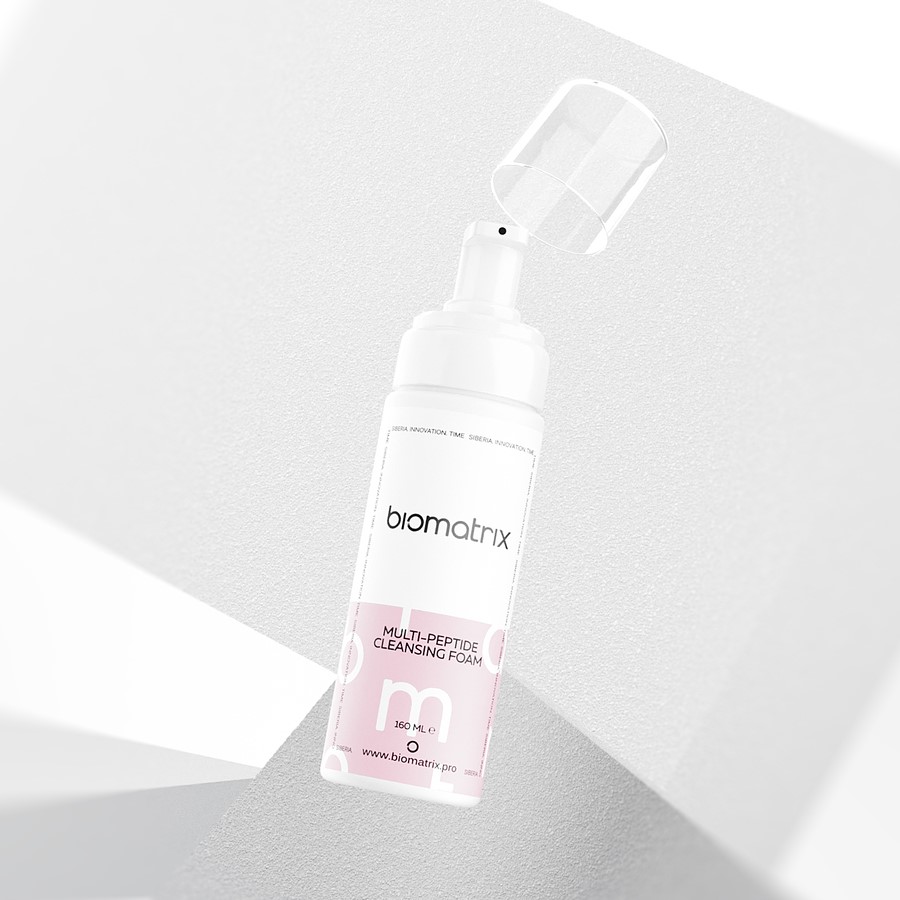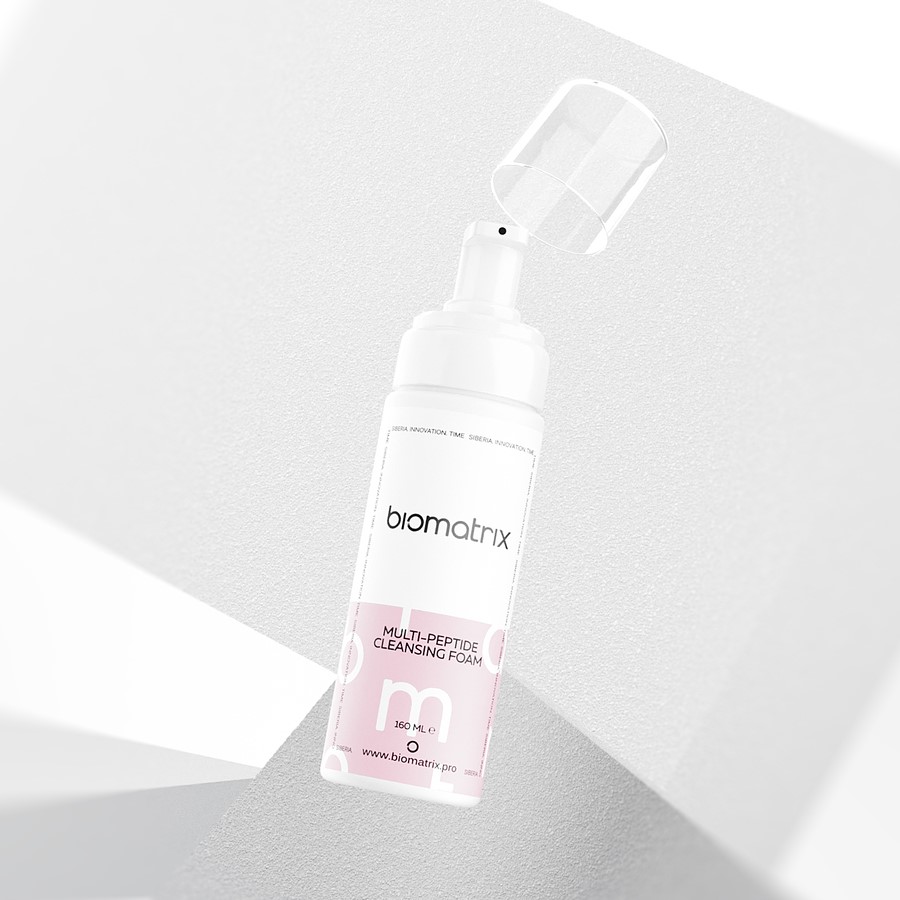 BIOMATRIX MULTI-PEPTIDE CLEANSING FOAM
A synergy of peptides, super mild surfactants, and plant extracts. Deep cleansing and hydration 24 hours.


Foam in a bottle with a foaming agent 160 ml
MULTI-PEPTIDE CLEANSING FOAM
With peptides and plant extracts for comfortable cleansing and light facial hydration. Suitable for all skin types.
Used as a gentle, thorough skin cleanser;
Recommended for use with MULTI-PEPTIDE products;
Suitable for all skin types.
Gently cleanse, and relieves irritation;
Actively moisturizes and improves the barrier function of the skin;
In combination with products of the Multi-Peptide series, it effectively moisturizes the skin for at least 24 hours;
Used in daily care even for sensitive and aging skin;
Suitable for the eye area.
Apply a small amount of foam on the wet skin of the face and eye area with massage movements, then rinse with water
Peptide moisturizing system
Diffuporin (acetyl hexapeptide – 37). Stimulates the formation of aquaporins, moisturizes, improves the barrier function of the skin, and enhances the synthesis of collagen I. Provides cellular protection against dehydration and promotes cell recovery after dehydration.
Matrixyl. Compensates for the deficiency of the main components of the extracellular matrix of the skin (hyaluronic acid, elastin, collagen).
Glycyl-histidyl-lysine (GHK) in complex with copper (GHK-Cu). Increases elasticity, firmness, and skin density and eliminates fine wrinkles. Reduces the activity of metalloproteinases, and plays a physiological role in the process of wound healing and tissue repair.
Complex of super soft surfactants
Provides gentle cleansing of the skin. Does not contain sulfates, forms a voluminous, elastic, and easily rinsed foam. Consists of 100% vegetable raw materials.
Soft surfactants do not disturb the lipid balance of the skin and have a regenerating effect. Suitable for daily care even for sensitive and aging skin.
Glyceril glucoside
Acts as a conductor of water and glycerol in cells. It supports the delivery of moisture to the dermis, stimulates the formation of water channels between cells, provides instant and long-term hydration, enhances the moisturizing ability of substances and maintains the barrier function of the skin.
Complex of plant extracts
Includes extract of witch hazel, aloe vera, plantain, lemon balm, thyme, and chamomile. Provides nutrition to the skin with vitamins, and has an antioxidant effect, protecting collagen fibers and intercellular substances from destruction. Maintains firmness and elasticity of the skin, strengthens capillaries, and reduces their permeability.
Provitamin b5 (D-panthenol)
Stimulates skin regeneration, normalizes cellular metabolism, and increases the strength of collagen fibers. Hydrates by restoring the integrity of the natural barrier. Polishes and softens the skin and quickly reduces redness and flaking.
Peptides (diffuporin, matrixyl, glycyl-histidyl-lysine)
A complex of super-soft surfactants (Lauryl Glucose Carboxylate and Lauryl Glucoside, Coco glucoside)
Glyceryl Glucoside
Herbal extracts (hamamelis, aloe vera, plantain, lemon balm, thyme, and chamomile)
D-panthenol
Avoid contact with eyes. In case of contact, rinse immediately with plenty of water