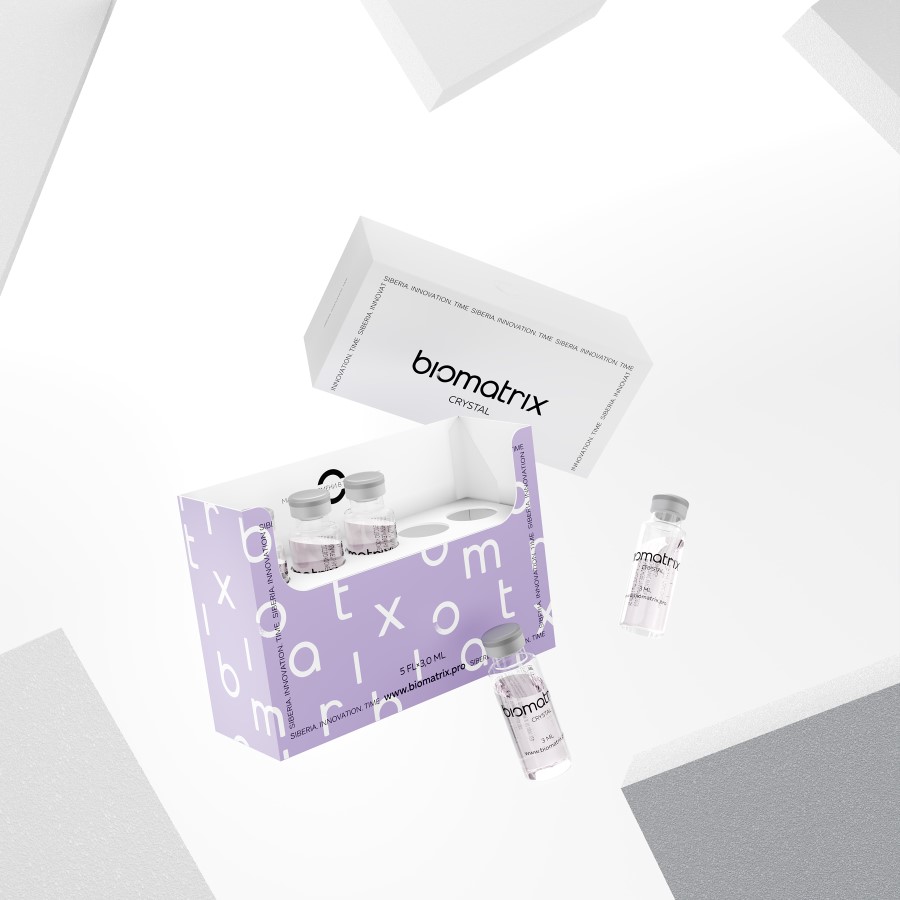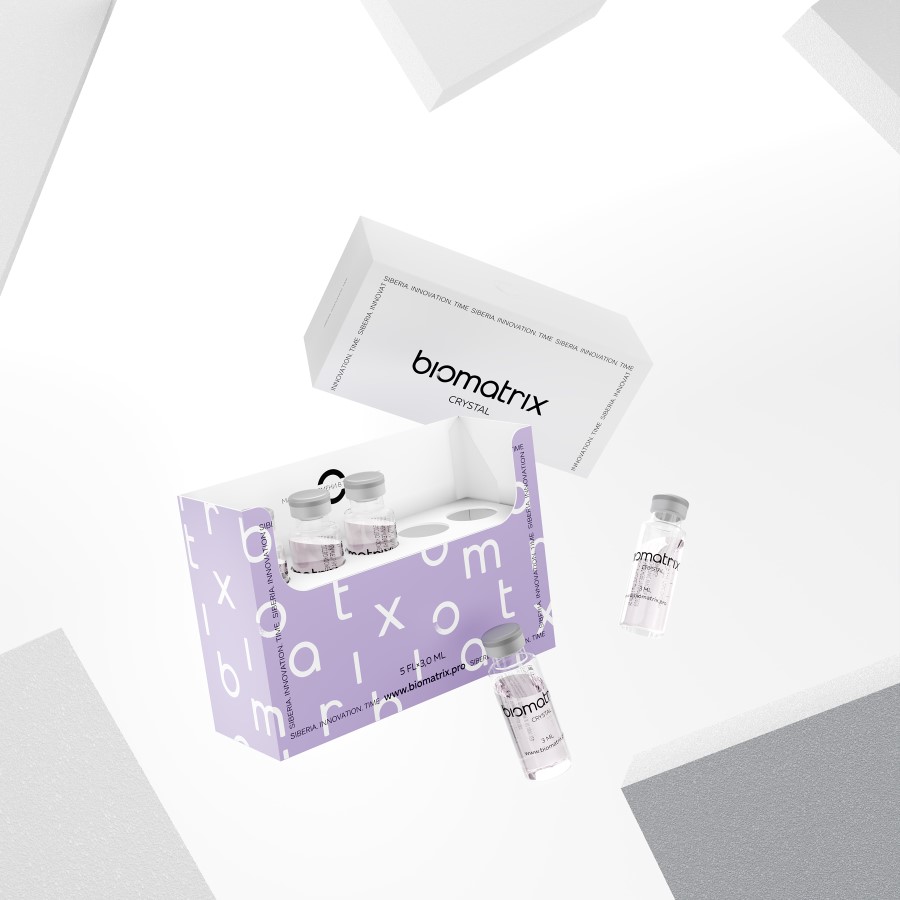 BIOMATRIX CRYSTAL
Sterile biologically active gel in a new release form!
Decreased tone, turgor, and elasticity.
The appearance of wrinkles.
Destruction of the collagen framework.
Sagging skin, ptosis.
Acne, post-acne.
Gray, dull complexion, hyperpigmentation.
Prevention and control of signs of photoaging and chronoaging.
Dehydration of the skin.
Preparation and recovery after aesthetic procedures
Biomatrix Crystal improves the quality of patients' skin.
Effective for all morphotypes of aging.
Ideal for correction and age-related changes in all areas of the face, including the periorbital area (up to the ciliary edge), neck, décolleté, hands, and body.
Gives excellent results on skin with acne, post-acne, and scar tissue.
The shortest rehabilitation period is less than 2 hours ("lunch break" procedure).
Affordable price for a specialist.
Instant result (immediately after the procedure), the skin becomes velvety and moisturized, the complexion improves, and the effect of "radiance" appears.
The procedure is comfortable for the patient, painless and safe.
Delayed result (after a course of procedures) – the number of fine wrinkles decreases, the depth of significant wrinkles decreases, the skin becomes denser, its firmness and elasticity increase, and the rehabilitation period after highly traumatic procedures (laser resurfacing, median peels, blepharoplasty, etc.) is shortened.
Hyaluronic acid (7 – 250 KDA)
Due to the low molecular weight of hyaluronate, the migration of different types of cells, including stem cells, is ensured.
Cell differentiation processes are activated, fibroblast proliferation, synthesis of collagen, elastin, and hyaluronic acid, and the growth of new vessels are stimulated. The immune function of skin cells is activated, a qualitative renewal of the components of the intercellular matrix begins.
N-acetyl-glucosamine-6-phosphate
The natural structural component of hyaluronic acid. This component is a specific substrate for synthesizing hyaluronic acid and proteoglycans. It can significantly improve the morphological and functional state of patients' skin. Has proven depigmenting properties.
Balanced composition of vitamins, minerals, amino acids, substrates, antioxidants
Such a complex composition includes everything that the fibroblast needs for increased synthesis of collagen, hyaluronic acid, and other dermis components necessary to rapidly increase the production of energy by the cell, to protect it from oxidative stress, and transport all reserves into the cell.
Unique peptide formula
Tetrapeptide-2: peptide to combat skin laxity and sagging.
Hexapeptide-37: hydration from within for youthful skin.
Matrixyl: replenishment of the deficiency of hyaluronic acid, elastin, collagen.
Relistase Peptide: A peptide for improving the elasticity of mature skin.
Acetyl Tetrapeptide-5: Designed specifically for the eye area.
Hexapeptide-51: bodyguard of the integrity of the genome for the protection and restoration of the DNA molecule.
Do not use after the expiry date stated on the packaging.
For single use only.
If the package is opened or damaged, do not use its contents